Brechbühl school
A detailed and inclusive Audit
Step 2: Carry out a Sustainable Development Audit
In order to involve the students as much as possible from the beginning of the project, the teaching team created questionnaires adapted to the different school levels. These questionnaires were validated by the student members of the Eco-Committee. The Audit highlighted the students' understanding and perception of the subject of waste and pointed out the areas for improvement: few sorting bins, unfamiliar waste pictograms and improper use of paper.
Waste recovery activities
Step 3: Create an Action Plan
Initially, the school community focused on improving the recycling of waste and minimising the use of paper at school in the Action Plan. Due to the coronavirus pandemic, the Action Plan had to be amended. During the lockdown period, the students took up the challenge of creating a forest of trees made from waste materials at home. This action allowed them to realise that waste can be reused in many ways and created a real common dynamic among the school community despite the social distance. On the occasion of World Recycling Day, a collection of books and clothes was also organised.
Involvement of the whole school to celebrate the actions taken
Step 7: Create an Eco-Code
To symbolise the school's commitment, the Eco-Committee produced a video clip. The students chose the music and wrote the lyrics of the song during their writing workshops. The song was then rehearsed and performed by all the students in the school and recorded by a teacher. The recording was finally combined with photos and videos taken throughout the project.
What's next?
Brechbühl school wants to continue the collection of books and clothes. New actions will be set up according to the next theme chosen by the school.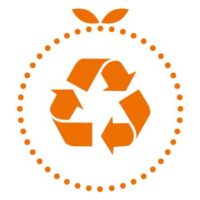 The project at a glance
School name: Brechbühl School
Type of school: Private
Grade(s): Pre-school and primary (3-12 years)
Number of students involved: approx. 160
Theme: Litter and Waste
Project duration: September 2019 – June 2021
Testimonials
"It was good because we sang the Eco-Code. I liked it because we are more careful about what we put in the bins. It's very important for the planet."
Gabriel, 2P student, Brechbühl
"The Eco-Schools programme has created a real school dynamic. All the classes were involved and able to contribute. This common purpose has been very positive for our school. Moreover, the fact of obtaining the Award was a real source of pride for all the adults and students of the school."
Laurent, teacher and Eco-Schools coordinator, Brechbühl
Other examples of projects